June 27, 2019
Categorised in: Blog
If it is a summer thrill you are seeking, Canada's Wonderlandhas you covered. Great for families, couples, friends and everything in between, this Vaughan Ontario theme park is sure to please. Boasting 134 hectares of amazing rides, delicious food and even refreshing water activities, Canada's Wonderland is known as the largest theme park in the country.
Cool Off at Canada's Wonderland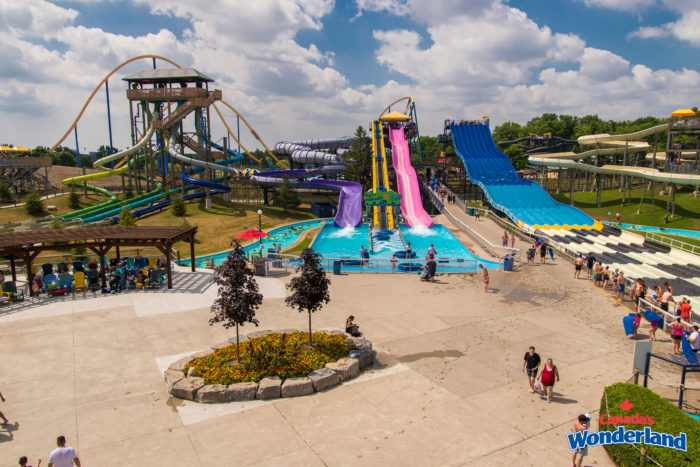 Splash Works
Admission to splash worksis included in the price of admission to the park. This is great news for water lovers! Boasting 20 acres of water-based attractions, there is something fun for all ages.
Water Slides
From the Muskoka Plunge to the Riptide Racer, there are so many different water slides to choose from. If it is water adventure you seek, the water slides at Canada's Wonderland will not disappoint.
Lakeside Lagoon
If you want to entertain your little water lovers, visit the Lakeside Lagoon. This pint-sized splash pool complete with interactive spray features, two waterslides and an interactive tube slide is the perfect way to cool down.
Lazy River
Take a break from the busy theme park and take a float down the lazy river. The quarter mile waterway offers a chance to enjoy some beautiful scenery while relaxing your cares away.
White Water Bay
Known as one of Canada's largest wave pools, white water bay is a great way to not only cool down but catch a wave or two.
There are so many fun water attractions at Canada's Wonderland, try out the water slides, visit Lakeside Lagoon, take a float down the lazy river, brave the waves at White Water Bay and more.
Be an Adventure Seeker at Canada's Wonderland
The Rides and Rollercoasters
Canada's Wonderland boasts so many different Thrill ridesandrollercoastersfor people of all ages and thrill levels. In fact, there are also several family rides, and kids ridesto choose from. Whether you visit Kidzville Station or brave the Behemoth, you are sure to find the right level of adventure for you.
Yukon Striker
If you are looking for something new this year, try the exhilarating Yukon Striker. This coaster is not for the faint of heart. Not only will you be staring directly down into an underwater tunnel, but you will hang over a 90-degree drop for 3 entire seconds. On the Yukon Striker you will reach speeds of 130 km/hr. Dipping and soaring this ride is sure to send you for a loop, a 360-degree loop that is.
Check out the Events
Canada's Wonderland isn't just about thrills, rides and water attractions. They also offer a wide variety of eventswhere you can enjoy family friendly show and activities, sample new foods and take part in amazing fun. Just as with all events at Canada's Wonderland, the cost is included with admission to the parkor your season's pass.
Events at Canada's Wonderland This Summer
KidZfest– July 22ndto August 5th– Packed full of character appearances from some of your favourite television characters like Bob the Builder, Teenage Mutant Ninja Turtles, Marvel Superheroes and more, this special celebration just for kids is sure to please. Boasting dance parties, live entertainment, foam pits and more, your little ones will have a blast.

Chinese Acrobatic Show– July 31st– September 2nd– Showcasing their astonishing contortion displays, these chines acrobats will have you in awe as they push their bodies to the limit. Experience shock and awe when they participate in amazing balancing acts, aerial acrobatics and astonishing juggling techniques.

Taste of Mexico– August 10thto 11th– Enjoy the in-depth flavours of popular Mexican fare like Carnitas, Tacos and Enchiladas at the Taste of Mexico Festival. In fact, you can even enjoy some fun street entertainment and traditional Mexican music while you eat!

Taste of Greece– August 17th– August 18th– If you love souvlaki you are going to want to visit Canada's Wonderland's Taste of Greece Food Festival. Enjoy street entertainment, live music and several Mediterranean dishes from main courses to signature desserts.

Taste of Italy– August 24thto August 25th– This will be the 4thannual Taste of Italy Food Festival at Canada's Wonderland. Take this opportunity to enjoy some of your most coveted Italian dishes from pasta to pizza and Cannoli to Tiramisu and everything in between. In fact, you will also enjoy some beautiful live music at the same time.

With so many fun and amazing ways to stay entertained this summer at Canada's Wonderland, you are sure to stave off those complaints of boredom! Just don't forget to pack your swimsuit.

Tags: Canadas wonderland, kids summer, rollercoasters, summer, summer activities, vaughan, vaughan moms, water park